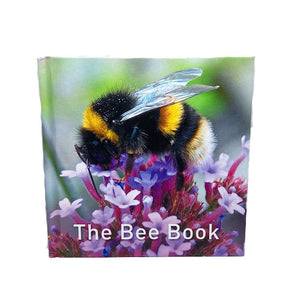 Written by Jo Byrne
ISBN 9781910862315
A stunning overview of the life and history of the bee, with beautiful color photos throughout
The Bee Book is a fascinating collection of everything related to the bee, spanning the natural and scientific to its place in arts and literature. This title is a compact guide to this much-loved and now threatened creature, and a reminder of the necessary actions which must be taken to protect species and their environments. The title is rigorously researched and illustrated throughout with a selection of stunning photography, illustration and art work.
The Bee Book offers a unique insight into this most fascinating of creatures, from the mystery of the hive, the power of the queen; and the many appearances of bees in folklore, literature and art. 
Exert featuring 'How Doth the Little Busy Bee' from Isaac Watts, 1715.
How doth the little busy bee
Improve each shining hour,
And gather honey all the day
From every opening flower!
How skilfully she builds her cell!
How neat she spreads the wax!
And labors hard to store it well
With the sweet food she makes.
In works of labor or of skill,
I would be busy too;
For Satan finds some mischief still
For idle hands to do.
In books, or work, or healthful play,
Let my first years be passed,
That I may give for every day
Some good account at last.
Jo Byrne is a passionate animal welfare and animal rights champion living in a relatively rural town in Bedfordshire. The Bee Book is her first publication with Graffeg.