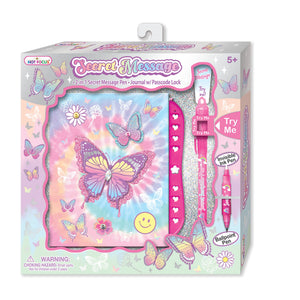 Unlock your creativity and express your inner thoughts with the enchanting Hot Topic Secret Message Butterfly Journal. This unique journal is not only a beautiful accessory but also a hidden gem of mystery and intrigue. With its delicate butterfly design and intricate details, it captures the essence of whimsy and wonder, making it a perfect companion for your writing adventures.
What sets the Hot Topic Secret Message Butterfly Journal apart is its secret message feature. Concealed within the pages are hidden messages that can only be revealed with the included decoder pen. Unleash your curiosity and embark on a journey of discovery as you unveil these hidden secrets, adding an element of excitement to your journaling experience.
Crafted with quality materials, this journal is durable and built to withstand everyday use. The lined pages provide ample space for your thoughts, dreams, and creative expressions. Whether you're an avid writer, a dreamer, or simply looking for a unique gift, the Hot Topic Secret Message Butterfly Journal is the perfect choice. Let its captivating design and hidden surprises inspire your imagination and become a cherished part of your writing routine. Order yours today and unleash the magic of this extraordinary journal.