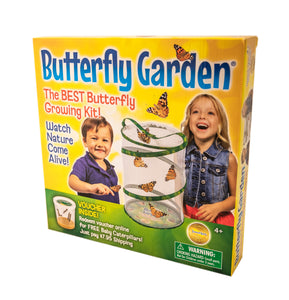 Discover the life cycle of live butterflies - from caterpillar, to chrysalis and then adult - up close with this reusable butterfly habitat! This product is suitable for all ages. Butterflies not included.
The Butterfly Garden® provides kids with limitless learning opportunities, special family time - and FUN! 
Parents and kids LOVE it! 
Voucher allows you to plan your project when you're ready

Immersive three-week experience

A hands-on opportunity to explore, grow, and learn about the natural world

Unique gift

Proudly Grown in the USA 
Before you Grow
Please note: this kit

 

does not

 

contain live insects. 
Your chrysalis holding log comes with your Cup of Caterpillars® when your voucher is redeemed.
Comes With
A voucher to redeem at your convenience for 5 baby caterpillars and 

all the food they need.

 

Pop-up, reusable, 12-inch

, super-see-thru mesh habitat

 

STEM Butterfly Observation Journal (Budding Entomologist Ages 4 to 7) - filled with loads of fun learning activities

Chrysalis Holding Log

 

Feeding dropper

 
Insect Lore, the Original Butterflies-by-Mail Company®, guarantees that at least 3 out of 5 caterpillars will become butterflies. You can learn more about the Insect Lore Guarantee here. 
Please note: Insect Lore is not responsible for lost or missing vouchers. 
Proudly Grown in the USA.  
Online Exclusive