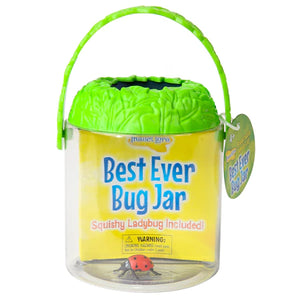 Kids will love using this fun bug viewer whilst out exploring in the garden, local park or on a woodland walk. A great addition to a camping or beach trip - collect pebbles, shells, sand or flowers.
Take a closer look at creepy crawly critters without the risk of setting them loose in the house or up your sleeve!
Collect and observe the bugs - then let 'em go....outside of course!
The easy-grip leafy screw top lid comes with breathable mesh to keep any beasties safe and secure. The jar is shatterproof, escape proof and is fitted with a comfy carry handle.
Includes an anatomically correct ladybird to play with before they begin any outdoor adventures.
Jar measures approx. 12.5cm tall with handle down, or 17cm with handle raised.  Width 10.5cm.
Made of plastic, no glass.