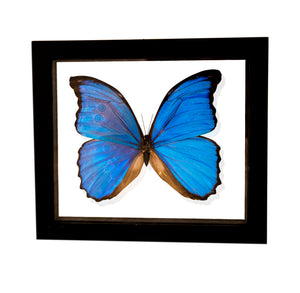 The Blue Morpho is one of the largest butterflies in the world with a native home in South America. 
Blue Morpho butterfly frame. Gorgeous, ethically-sourced butterflies can be a lovely highlight in your home! These butterflies lived out their natural lives and were then placed in frames to highlight their vibrant colors and features. A brilliant choice for a stunning and unique gift that will last a lifetime! (For increased longevity, please keep out of direct sunlight and rooms with higher humidity.)
Per AZA standards, all our specimens are certified by Colorado Fish and Wildlife to meet rigorous ethical standards.

Size: 7.5" x 7"
Shape: Rectangular 
Mounting Type: Wall Mount
Frame Material: Wood
Finish Type: Natural
Cover Material: Glass
Your purchase helps support invertebrate education, research, and conservation worldwide.