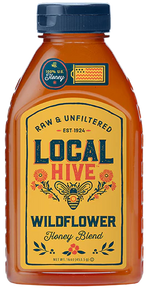 Local Hive™ Wildflower Raw & Unfiltered Honey is a blend of sweet and rich 100% U.S. wildflowers that stay true to the blooming flowers our bees chose. The result is an unforgettable, sweet, all-American honey.
Honeybees visit a variety of flowers in their native regions, collecting all kinds of sweet, fragrant nectars to make this polyfloral honey. Our premium wildflower honey is harvested and bottled raw to preserve the flavor in every batch. Its mild, sweet flavor makes it a great natural replacement for sugar.
NUTRITIONAL FACTS
Serv. Size: 1 Tbsp (21g)
Per Serving:
Calories: 60
Fat Cal: 0g
Total Fat: 0g
Sodium: 0mg
Total Carb: 17g
Sugars: 16g
Protein: 0g
Percent Daily Values are based on a 2,000 calorie diet.