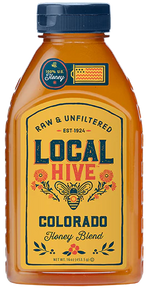 Local Hive™ Colorado Raw & Unfiltered Honey is a blend of light and smooth honey from Colorado beekeepers balanced with the classic taste of premium 100% U.S. Honey. The result is an unforgettable, sweet all-American honey
Colorado's wide variety of wildflowers make for honey that's delicious and mild, but still nuanced. At higher mountain elevations, the shorter growing season leads to sweeter raw honey with a more concentrated flavor. Try pairing this spreadable honey with pound cake, hot buttered bread and biscuits, hot tea, or to ease seasonal allergies.
Butterfly Pavilion's Pollinator Awareness, Conservation and Education programme partners with Local Hive Honey to bring quality local honey to your shelf. A portion of every purchase, through Butterfly Pavilion or at your local grocery store comes back to support Butterfly Pavilion. 
Store at room temperature. Do not microwave. Do not feed to children under the age of one.
NUTRITIONAL FACTS
Serv. Size: 1 Tbsp (21g)
Per Serving:
Calories: 60
Fat Cal: 0g
Total Fat: 0g
Sodium: 0mg
Total Carb: 17g
Sugars: 16g
Protein: 0g
Percent Daily Values are based on a 2,000 calorie diet.