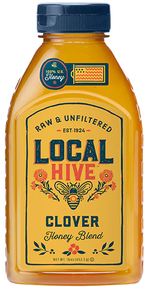 Local Hive™ Clover Raw & Unfiltered Honey is a blend of sweet and smooth authentic clover honey balanced with the classic taste of premium 100% U.S. honey. The result is an unforgettable, sweet, all-American honey.

Clover plants are one of the most common wildflowers in the eastern half of the United States, and honeybees love them. With almost 300 species of clover, each bottle can have a slightly different flavor thanks to the different pollen profiles inside. Clover honey's delicate flavor pairs perfectly with hot tea, cornbread, biscuits, and pancakes.
Ingredients & Nutritional Facts
Nutritional Info:
Serv. Size: 1 Tbsp (21g)
Per Serving:
Calories: 60
Fat Cal: 0g
Total Fat: 0g
Sodium: 0mg
Total Carb: 17g
Sugars: 16g
Protein: 0g
Percent Daily Values are based on a 2,000 calorie diet.
Ingredients:
Honey