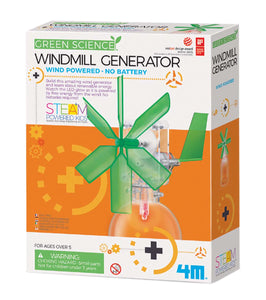 Unlock the wonders of renewable energy with our innovative Green Science Windmill Generator. Designed to ignite curiosity and foster a love for science, this hands-on kit combines education with exploration. Young scientists will delight in assembling their very own windmill generator, learning about sustainable energy sources along the way.
The Green Science Windmill Generator empowers children to understand the principles behind wind energy conversion. By harnessing the power of the wind, this generator produces electricity that can be used to power small LED lights or charge rechargeable batteries. It's a captivating way to demonstrate the potential of clean, green energy while instilling a sense of environmental responsibility.
Promote sustainability and inspire a new generation of eco-conscious individuals with the Green Science Windmill Generator. This engaging kit encourages critical thinking, problem-solving, and scientific exploration. Whether used as a captivating educational tool or an exciting weekend project, this windmill generator is a stepping stone towards a greener future. Invest in this stimulating and eco-friendly kit today, and watch young minds light up with excitement as they unravel the fascinating world of renewable energy.