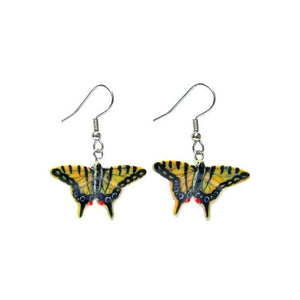 Adorn yourself with the graceful beauty of the Tiger Swallowtail Butterfly with our exquisite Painted Porcelain Earrings. These handcrafted earrings are a true testament to craftsmanship and elegance, featuring delicate porcelain charms meticulously painted to capture the intricate details and vibrant colors of the Tiger Swallowtail butterfly. Each stroke of the brush brings the butterfly's majestic wings to life, making these earrings a captivating accessory that will turn heads wherever you go.
To ensure both style and comfort, these Tiger Swallowtail Butterfly Painted Porcelain Earrings are thoughtfully designed with sterling steel hooks. These hooks provide a secure and hypoallergenic option for those with sensitive ears, allowing you to wear these earrings all day long without any discomfort. The combination of porcelain and sterling steel guarantees durability, making these earrings a lasting addition to your jewelry collection.
Embrace the allure of nature with our Tiger Swallowtail Butterfly Painted Porcelain Earrings. Whether you're a butterfly enthusiast, a lover of artful accessories, or someone who appreciates the beauty of the natural world, these earrings are the perfect choice. Let the Tiger Swallowtail butterfly flutter delicately from your ears, and watch as these stunning earrings become a cherished symbol of elegance and grace. Order your pair today and experience the enchantment of the Tiger Swallowtail in every step you take.