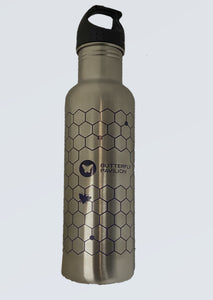 Stay hydrated in style with our sleek and eco-friendly Stainless Steel Butterfly Pavilion Water Bottle - 24oz. Designed for both functionality and fashion, this water bottle is the perfect companion for your daily adventures. Crafted from durable stainless steel, it ensures long-lasting performance while reducing single-use plastic waste.
The eye-catching design of our Butterfly Pavilion Water Bottle showcases a vibrant butterfly motif, making it a standout accessory that adds a touch of nature's beauty to your hydration routine. With a generous 24oz capacity, this water bottle keeps you refreshed throughout the day, whether you're at the gym, office, or exploring the great outdoors. Its stainless steel construction ensures optimal temperature retention, keeping your beverages cold for up to 24 hours or hot for up to 12 hours, making it suitable for all seasons.
Invest in sustainability and express your unique style with our Stainless Steel Butterfly Pavilion Water Bottle - 24oz. This versatile and environmentally friendly accessory is designed to accompany you on all your hydration journeys. Whether you're a nature lover, fitness enthusiast, or simply looking for a stylish water bottle, this is the perfect choice. Stay hydrated while making a positive impact on the planet. Order your Stainless Steel Butterfly Pavilion Water Bottle today and sip in style while reducing plastic waste.