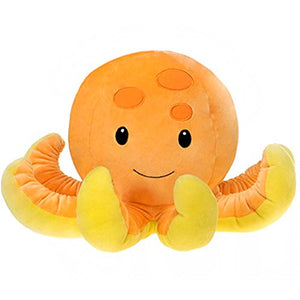 Huggy Huggables Collection - This collection of Fiesta is the softest and most comfortable collection yet with high quality spandex material for softness. These plushies are designed with the hugs in mind. The larger design makes them extra huggable, cuddly, and easy to hold.
Lovable & Detailed - This octopus stuffed animal plush will provide hours of fun, comfort, and joy to your special loved one. Watch your loved ones eyes light up and big smile as they hug their new plushy friend. Your octopus sits at a height of 15.5" inches.
Soft to the Touch - These cute animal plushies give the best cuddles and feel amazing to snuggle up with on your skin due to Fiesta's super soft spandex fabric. Children and adults will pet, cuddle, and play with these for hours.
Huggable - The premium polyester stuffing gives these plush their softness when hugged and flexibility return back to shape after being cuddled tightly. This plush was designed with the hugs in mind