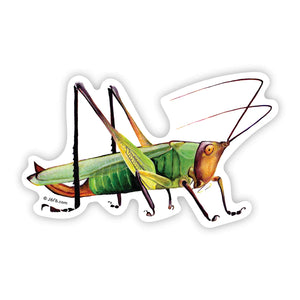 Colorful, creative, and smile-inducing premium vinyl stickers feature J6R6 artwork that is hand painted in house and designed to make you feel sunny. This green grasshopper sticker is perfect personalize your water bottle, laptop, etc.

Water, Weather, Scratch, and UV Resistant

Matte Finish Die-Cut Durable Vinyl Sticker

Adheres best to clean, dry and smooth surfaces

Approximate Size : 4.5" x 2.5"