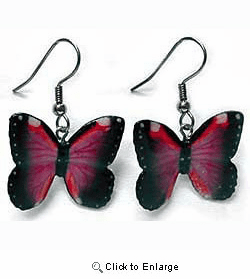 Experience the captivating beauty of the Violet Morpho Butterfly with our exquisite Painted Porcelain Earrings. Handcrafted with precision and care, these earrings showcase the delicate allure of the Violet Morpho butterfly, known for its stunning iridescent wings. Each porcelain charm is meticulously painted to capture the vivid hues and intricate patterns of this remarkable butterfly species, creating a wearable work of art that is sure to mesmerize.
Designed with both style and comfort in mind, these Violet Morpho Butterfly Painted Porcelain Earrings are paired with sterling steel hooks. These hooks provide a secure and hypoallergenic option for sensitive ears, ensuring a comfortable fit throughout the day. The combination of porcelain and sterling steel guarantees durability, allowing you to showcase these earrings for years to come.
Embrace the elegance of nature with our Violet Morpho Butterfly Painted Porcelain Earrings. Whether you're attending a special occasion, looking to add a touch of whimsy to your everyday ensemble, or seeking a unique gift for a loved one, these earrings are the perfect choice. Experience the magic of the Violet Morpho butterfly as it dances delicately from your ears, and let these stunning earrings become a cherished part of your jewelry collection. Order yours today and unlock a world of enchantment.